Debt Finance
April 8, 2021
Posted by:

admin

Categories:

Business Finance, Business Strategy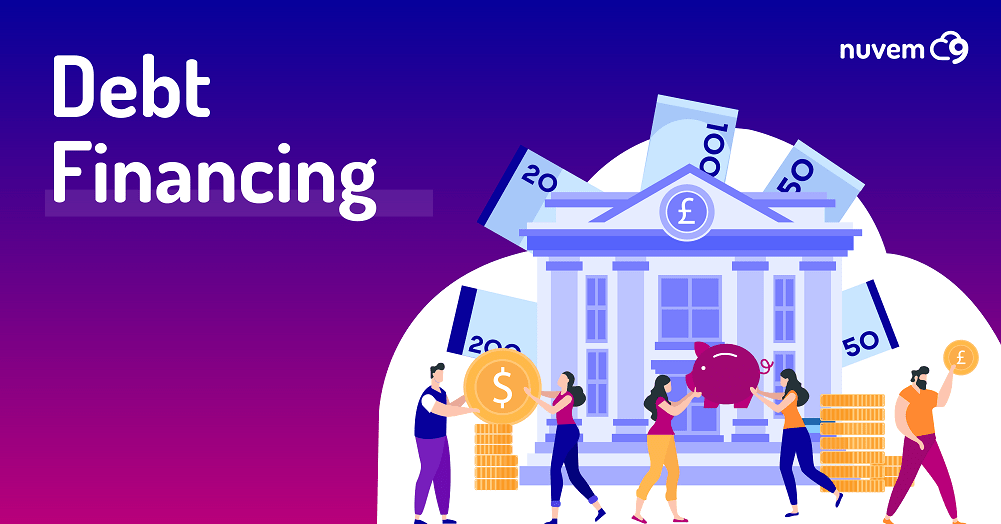 DEBT FINANCING EXPLAINED
Every business needs capital at some point in its journey. Whether it is to take the company to the next milestone, build assets, research new products or services, expand to new geographies, or sustain operations in the short run, financing becomes critical. A business can be financed through debt or equity.
Debt financing occurs when a company borrows capital that has to be repaid at a future date, along with interest. The principal and interest amount often need to be paid in monthly or half-yearly instalments or, specifically defined trigger events e.g. customer project completion. Unlike equity financing, which refers to raising funds by issuing shares in the Company, debt financing offers the advantage of retaining full ownership of your company and claiming a corporation tax deductible expense on the interest amount paid. The decision regarding the type and amount of debt financing depends on several factors:
The loan purpose: The objective is a good indicator of the duration of the loan. Debt can be taken to fund short-term business operations (called working capital) or long-term business goals (capital investments). Working capital can be arranged through overdrafts or asset-based finance (loans on inventory, account receivable, etc.), while loans or leasing arrangements are more appropriate for long-term goals (purchasing machinery).
The business's age/size: There are different schemes available from banks and government funds for small and large businesses. The sums granted, interest rates and documentation needed also differ in both cases. A few examples of such options are the Bounce Back Loans for small and medium enterprises and Coronavirus Large Business Interruption Loan for large businesses that were announced by UK Treasury in response to the Covid-19 pandemic's impact on the economy.
The business sector: A capital intensive business or Company that requires high levels of tangible stocks will require a higher amount of loan than an asset-light business. Thus, financial institutions also offer different rates of interest for different sectors.
Cost of debt: Debt carries interest with it, usually payable monthly. The cost of debt differs for companies depending on their size, credit history, nature of the business, and type of debt secured.
Debt-Equity Ratio: This is the ratio of your company's total liabilities by its shareholders' equity. It benchmarks the risk in your capital structure. Procuring fresh debt by the company will also depend on the existing debt/equity ratio and acceptable risk for the lender.
Types of Business Loans
There are mainly three types of business loans:
1) Term loans: A loan from a bank or another financial institution comes with a fixed repayment schedule. Short-term loans range from 3 to 12 months of repayment schedules, and long-term loans typically range from 1 to 10 years but can extend up to 30 years. There are two types of term loans:
Secured – With a secured loan the lender takes security from you in return for the amount loaned. This security can be a property like your home or any valuable asset. Such loans are less risky for the lender, so they are offered at lower interest rates. Secured loans are typically used to borrow large sums of money, usually over £10,000.
Unsecured – This is a loan without security. You borrow money from a financial institution and agree to return the amount through regular payments. Since it is risky for the lender with no asset to secure the repayments, such loans attract a higher rate of interest.
2) Short term facilities: Short term loans are given to borrowers for a maximum period of 12 months. These can be used to settle urgent payments or sustain business operations when dues have to be paid earlier than expected incomes. Independent physical and digital vendors provide such loans, such as An example is Iwoca.
3) Flexible financing: A Flexible or Flexi loan permits you to increase or decrease the amount borrowed, change the schedule of repayments, and occasionally miss a due repayment, as per the agreement. Credit history is a major deciding factor for who is eligible for this loan and who is not. An example is Iwoca.
Examples of Debt Financing Methods
There are multiple ways to procure debt for your business, apart from the ones already listed:
1) Invoice discounting – Your invoices to your customers signify that the business has some amounts receivable. However, if you need a part of this amount (up to 95%) before the receivable date, you can get your invoices discounted from a financial institution. Your customers do not know that you are using this facility, and you are responsible for chasing repayments with them.
2) Debt factoring – Another form of leveraging your account receivables, debt factoring, means selling your unpaid invoices for a defined percentage of their worth. Depending upon the risk involved in the recovery of these invoices, an assessing institution can offer you up to 90% of the invoice value upfront. In this case, your customers become aware of the factoring since the lending organization takes care of the receivable recovery.
3) Asset financing – Asset financing can help you use assets without investing the full amount in them or even owning them. There are various forms of asset financing:
Hire purchase means getting equipment straight away but paying for it in installments. You own the asset when the repayments are complete.
Equipment leasing also means that you get the equipment right away but pay for it over a period of time. However, in this case, you don't own the equipment at the end of the stipulated time period; the lessor owns it.
Operating leases let you hire equipment for a short-term rental agreement. These are accounted for in the P/L statement of an organization, not the balance sheet.
Finance leases let you rent an asset for the maximum portion of the asset's useful life.
Asset refinancing refers to borrowing money with an asset/equipment as a security/collateral.
4) Property financing – Quite simply, property financing is accessing borrowed capital by securing the loan with your residential or commercial property as collateral. Typical repayments extend from 10 to 30 years but can be shorter in some instances.
5) Merchant advances – Merchant cash advance is a loan against future sales, typically useful for businesses with high retail sales. You receive a lump-sum loan from a lender and repay it as a percentage amount of your daily sales. You Lend, Capify, Nucleus, and Boost Capital are a few of the lenders.
6) Trade finance – If you have a confirmed customer order and need cash to fulfill it, trade financing is a great option. You can use your purchase order to procure some money and buy inventory or pay suppliers. It is also called purchase order finance or import finance.
7) Refinancing – In the simplest terms, refinancing is paying off loans with new debt. Ideally, the new loan has better terms or features compared to the existing ones.
Checklist for Procuring a Loan
Understanding the 'what' and 'why' of debt financing brings us to 'how.' Once you have decided to borrow finance for your business, it is important to have the right documents in place. Banks require more documentation than other lenders do. Here are the essentials documents for procuring a commercial loan:
1) Business plan – A business plan is a written document describing your business. It includes your business' objectives, forecasts, and strategies. A business plan clarifies your business idea, helps spot potential problems, lays out your business goals, and measures progress. This is the first document that helps in building the credibility of your business for a loan.
2) Financial forecasts – A part of your business plan covers your financial projections. This helps translate the vision for your business into specific numbers. A financial forecast deeply analyses the following:
Expected revenues and expenses for the next few years
The amount of capital you need when seeking debt
The security that you can offer to your lenders
Plan to repay the borrowings
3) Cashflow – Cashflow forms a part of your statements and financial forecast. It categorizes the revenue and expenses you expect in a period, say one year. It reflects on all revenue sources, say sales, expected payments from customers, expected sale of an asset, all known expenses, cost of raw materials, supplier payments, rentals, and tax payments. A cash flow statement showcases how sustainable your plans are when put into action.
4) Company historical results – You need to share documentation about your company's historical performance in terms of analysis and numbers both. This helps verify your projected growth through the past performance.
5) Business bank statements – Your bank statements verify your business income and expenses. These statements primarily consist of a summary of the transactions listing your spending and earning. Sometimes financial accounts may be additionally required. Financial accounts give a ledger view of the full financial year.
6) Security provided – A large amount of loan might require security or collateral. Property or other valuable asset is usually used for this purpose, apart from the documentation.
Be Supported by an Expert
It is essential to understand that not all loans are available to all businesses. There are a number of factors that can be considered to decide the best mix of debt and equity and the most optimum debt funding tool to be used. Requirements, availability of funds, and sources of funds all change depending on your business size and industry. Thus, it is a smart decision to consider taking the help of a professional when opting for debt funding.
Nuvem9 are expert Funding Consultants with years of experience assisting companies in the UK with debt requirements. We have helped businesses gain over £10 million in financing and continue to grow this outreach. Nuvem9 offers a free consultation session to discuss your company's specific needs. Reach out now to book an appointment!