Looking for a Business Loan?
Get fast funds through our networks of lenders providing a wide range of flexible business finance solutions. Fast applications and receive offers with competitive rates in under 72 hours. 
We have helped clients obtain payouts out on 88% of searches and the average deal value is £150k
We use the best cloud accounting and reporting tools to give you a clear understanding of your current and forecasted finances. This means we give you a complete viewpoint of your profitability, overhead projections and most importantly cash position in the future.
In order to scale we understand that you may need to finance the growth. We support you further in being able to make fast, online loan applications to a wide range of business finance lenders in order to give you the best fit of affordable finance products that your business needs to scale up to the next level. We have experience in generating over GBP 10m in funding and operate in a proven, strong network of lending partners offering thousands of debt solutions.
Pre funding credit searches

Pre enquiry market searches of best fit products and rates
Online progress monitoring of applications
Periodic review of refinancing opportunities
We deal with businesses that require Finance for any number of reasons
Frequently Asked Questions
Fill Out The Form To Find Out How Much You Can Borrow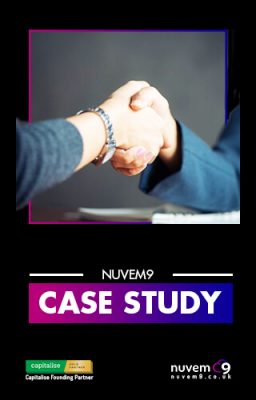 In mid-2018. Nuvem9 held a 1 day strategic review with a client who were concerned that, despite revenue growth, cash pressures seemed to be increasing. The client was reluctant to take on a term loan over a 3-5 year period without understanding the reasons for the cash difficulties.
Nuvem9 prepared analysis that showed that, given a customer base of large blue chips, the company was actually suffering classic growing pains by receiving cash in after the direct costs of each sale were made. Within days we were able to secure a £250k invoice financing solution enabling the company to accelerate cash received on invoices raised to the blue chips; furthermore, with a clear online platform, the fees were transparent and easy to factor into their margins with the clients.
In addition, we were able to get a £115k flexible loan product approved – in essence a rainy day fund. This allows the client to more aggressively recruit staff and expand operations knowing they can cover any short term cash issues with an overdraft style solution that can be repaid at any time without penalty, and refreshed within hours.
The client is now spending less time fretting at nights and weekends worrying about cash and answering unhappy suppliers. With more time to focus on business growth and client delivery the company recently won 3 separate awards for their work with high profile clients.
Nuvem9's extensive skills in understanding the business issue combined with the ability to find the right product to solve the problem is accentuated by being a Core Founding Partner with Capitalise.com.
The Nuvem9 clients we have had interaction with hugely value Nuvem9's digital first, always on, virtual nature. Nuvem9 combine a diligent attention to detail in preparing clients forecats and budgets, educating and preparing them for the scale of funding required and what each option entails. Nuvem9 have funded through merchant bank, peer-2-peer, alternative and independent lenders.
Why do we not use High Street Banks?
Nuvem9 is all about helping ambitious business owners grow their business. We work with likeminded businesses when we service our clients. High Street banks have old applications and do not respond in the time that our lenders do each time. The banks are also less likely to help you and even when you do get an offer it can infexible repayment terms and high levels of security and covenants. We have raised over GBP 10 million in business finance and know that our network is best suited for your needs!
Want to know more?

Pick up one or both of our useful guides…